where's my bebbie? he's gone over the ocean...
alvin's in europe and he has left me behind!!!
NOOOOOOoooooo
:(
actually it's just because i didn't have 5k to spare to go hopping around Europe with him and his family... and not enough leave. pffft!
so i decided to spend the entire weekend with him...

packing

. since i can't go, i can at least decide what my boyfriend wears.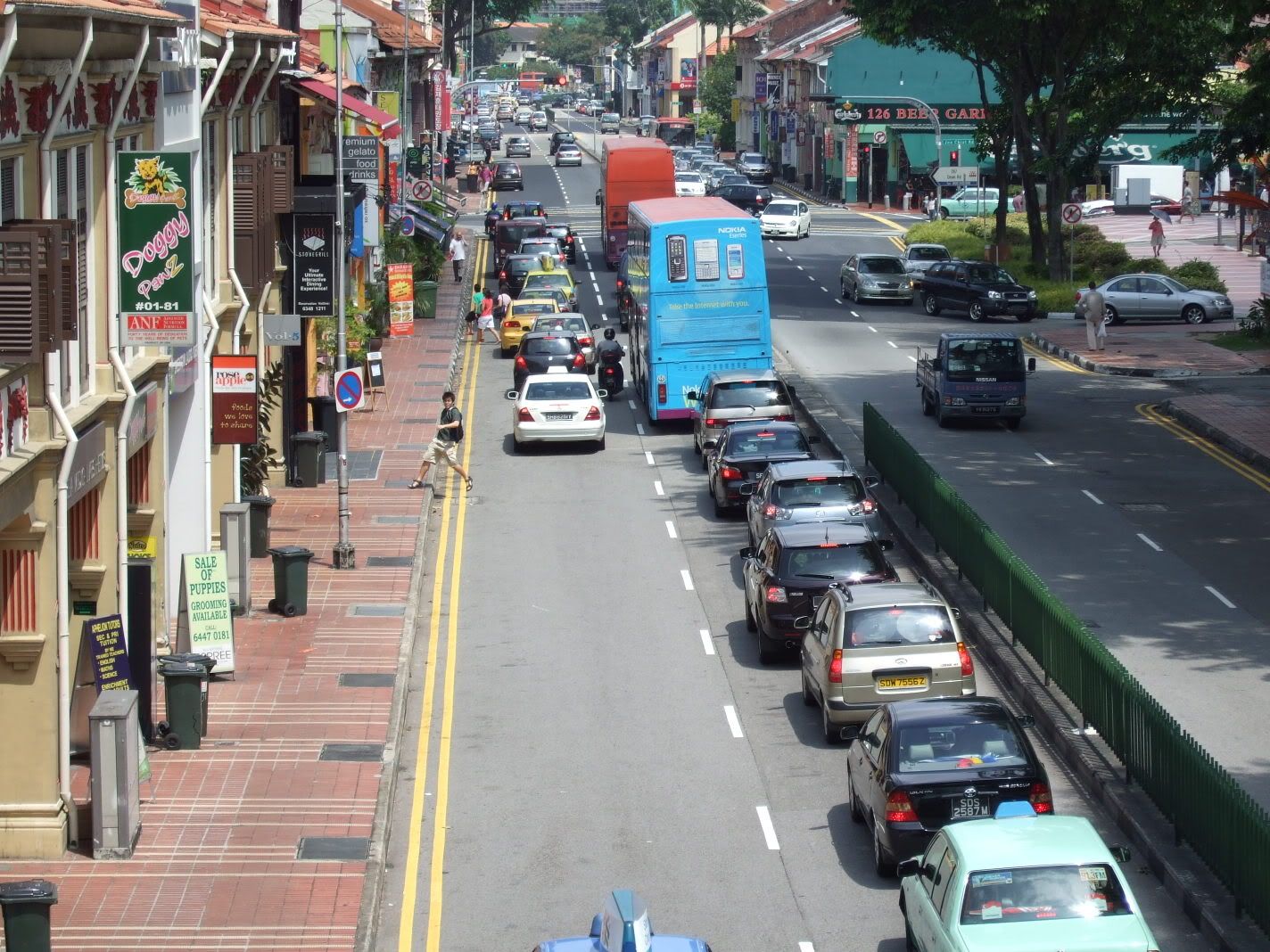 here he comes, dashing across the road to meet me!
come to me bebbie~!
just nice, we were both taking bus 12 from opposite directions (from simei/bugis) and our buses arrived at katong less than 3 minutes apart. i ran into alvin's arms... and swooned...
*fantasy grinds to a halt*
...
we had AWESOME tau kua pau for lunch (love, love, LOVE IT) at katong, before heading over to his place.
we started packing... and we counted a total of ELEVEN PAIRS OF JEANS (all in various shades of light to medium blue; none dark. or even
black
.) in his wardrobe!!!
his answer to that was, 'one pair of jeans every CNY, what.'
??!?!?!?! okaaaaay... i will make sure this coming CNY is something different. (perhaps a kilt)
there was even a case of not remembering what he bought last year or the year before, so he ended up getting the SAME PAIR OF LEVI'S in the SAME CUT, of similar shades...
3 years in a row.
YES! HE HAS 3 OF THE SAME PAIR OF JEANS!!!
*look of disbelief*
anyways, here i am all squashed under his amazing jeans-of-the-same-shade collection.
can u find me?
and then alvin was wondering which 3 pairs of jeans he should bring over... so he tried them on for me to pick.
so now, i've decided to post a totally RANDOM picture i found on the net. seriously! it is just a picture that i found online of someone trying on his/her jeans.
i'm. too sexy for my shirt. too sexy for my shirt... SO SEXY IT HURRRRRTS
in case u guys were wondering... no,
of course
it's not alvin! oh please, haha, come on! it's not him man!! it can't be! alvin does not gyrate like
that
, come on.
just trust me when i say it's not him la.
ANYWAY.
we watched superbad, and shrek the halls, and had a great dinner.
but nothing beats the TOTALLY RANDOM PICTURE I FOUND ONLINE WHICH IS

NOT

ALVIN.
---
sigh, chin ling IS right. my blog is a date-blog.
ahahahahah, and alvin's is a
dead
-blog.